Recent Portal themed emblems
Which takes us back to the behavior that was the default on VAX systems running VMS 20 years ago... Microsoft is implementing something similar in Vista as well. http://arstechnica.com/news.ars/post/20060730-7383.html

B

Yeah, Apple is definitely copying Microsoft now... it's pretty undeniable. Time Machine is virtually identical to Microsoft's backup system for Vista.

"Previous Docs" from Wikipedia:
"Previous Versions", previously known as Volume Shadow Copy in Windows Server provides read-only snapshots of files on local or network volumes from an earlier point in time. A new tab in the Properties dialog for any file or folder provides users with straightforward access to these previous versions.

System Restore, Shadow Copy, and Backup in Vista now run on the same technology (so they are considerably different than the XP versions).

iChat basically got the remote screen sharing feature that Microsoft shipped with XP in 2001 (included in Windows Messenger) and the presentation/app sharing features from Windows collaboration in Vista.

Mail and iCal got a bunch of features from Outlook 2007 and Windows Live Calendar/Mail.

Dashboard's ability to clip web pages is straight out of Active Desktop.

the Spotlight improvements were things that Indexing Server in XP/2000/2003 already did. Even windows desktop search (enterprise) and Vista include that functionality as well.

Spaces is virtual desktops just like the powertoy MS released years ago
http://www.snapfiles.com/reviews/Virtual_Desktop_Manager_Powertoy/msvdm.html
http://en.wikipedia.org/wiki/Virtual_desktop

Core Animation looks like Apple's response to all the DX and WPF (Avalon) animation tools in Vista.
---
lack ops emblems girl.
has adobe dropped any hints as to when CS3 will be available
---
Black ops Emblem Ever!
Except they get pissed off if you give them ideas.
Or was that Nintendo?
Both, probably. Legalities.

OK, that's wierd. Who would get angry about having research into what the public wants done for them???

No wonder Nintendo sucks so much.

BTW, Congrats on ur 500 Posts!
---
so badly, Best Call of
backdraft
Aug 26, 04:30 PM
Yet iBooks and PowerBooks (PPC based systems) are part of this most recent battery recall (and a prior one)... it has nothing to do with switching to Intel. Apple has been using standard commodity parts in their systems for a VERY long time now.

...and while you are at the site why not look at some non-Intel based systems...

http://www.appledefects.com/wiki/index.php?title=Titanium_PowerBook_G4
http://www.appledefects.com/wiki/index.php?title=PowerBook_12%22
http://www.appledefects.com/wiki/index.php?title=Ibook

From the looks of it PPC based Mac's have MUCH fewer issues.
---
If your a Black Ops player,
epitaphic
Aug 18, 09:12 PM
If you don't think you are going to ever use more than one thing at a time, then you are right. But I think most of us here have 10-15 things open at once and do all sorts of things at once. That's the reason for "Spaces" in Loepard.
We all probably have 15+ apps running at any time, but its very rare to have more than two hammering the CPU (unless its "automated" like with handbrake/toast). That is of course, unless you find yourself editing video whilst designing a website whilst laying out a book whilst writing some music whilst watching superman at the same time. ;)
---
call of duty lack ops emblems
bedifferent
Apr 27, 11:07 AM
It clearly is an issue if they have a federal lawsuit on it. The fact that Apple are rolling out an update that changes the way it works alone shows that there is clearly a problem. Apple vary rarely roll out updates that change things, even if consumers are screaming for it (mouse acceleration in OS X for example).

You refuse to accept there is a problem. You refuse to see the breech of privacy. Why? The government and Apple have clearly accepted it.

Is this the same government that allowed warrantless wire tapping? The same federal government that allowed Halliburton no bid contracts in Iraq? Interesting how some cherry pick (this is not referring to you at all, just a general statement, not meant to be personal :) ), "government is bad, social healthcare is bad, but wait, federal lawsuits have merit, government is right".

A lot of federal lawsuits have no merit and there has been no ruling. Thus if a lawsuit is federal = all federal lawsuits are valid TRUE, doesn't make sense. Perhaps waiting this out for more information would be prudent instead of jumping down each others' throats. (again, this is not directed at you, just clarifying so no one thinks I'm "taking this to the mattresses" lol)

I do not understand why every thread on MacRumors turns into a free-for-all. It should be called "MacFeuders"… ;)
---
Black ops emblems ep monster
For the love of God, please, learn to spell.

As I is naught en Amerikan canned sumone plz tell mi wen tanksgifting is? :p
---
So I totally suck at emblems,
citizenzen
Apr 27, 10:08 AM
Eric Cantor criticizes Obama (http://www.mediaite.com/tv/eric-cantor-criticizes-president-obama-for-addressing-birth-certificate-controversy/) for releasing his long-form birth certificate.

Sometimes you just can't win. :rolleyes:
---
Call of Duty: Black Ops. What
History has shown that having a product out sooner... doesn't mean you win the market.
Playstation?

The video game market is completely different, the analogy is just a stupid attempt at making people that think Apple should realease up-to-date hardware look stupid. Have fun at that, it didnt do much in convincing me that I should buy a CD when a C2D is just around the corner.

All you people trying to make us feel like complete morons for waiting and wanting a new (AND BETTER) chip, what's wrong with you?! Did you just buy a MBP and feel the need to piss on everyone that is about to get a beter machine than you? Or is it just PMS or some other hormonal condition?
---
Cod Black Ops Emblems Funny.
Does it even MATTER if Apple keeps up? Do we actually WANT Apple to release a new computer every month when Intel bumps up their chips a few megahertz?

See, it's easy to get lost in the specs war. The Mac Pros came out and I was salivating, even though I have a dual 2.0GHz G5 sitting at home. And then one day, as I was editing some HD footage, it occurred ot me that my G5 here - my now outdated G5 - was editing 1080p high-def footage without so much as a flinch. It was SO fast it was not even necessary at all.

So I really have to ask - does Apple really need to get into that stupid-ass PC specs war? Is it really hurting you guys that Apple has been slow to update? Are you really doing tasks that the current computer lineup cannot do?

Hm, well my Powerbook runs barely 4 instances of Sculpture on some of my works. MacBook Pros can run about 15-17, but I've been holding off on the Rev. A because of all the heat issues. Hopefully those get cleared up.

Anyways -- yes, I think we should expect Apple to update along with everybody else on the PC front. Maybe not every small speed bump, but whenever a newly designed chip comes out.
---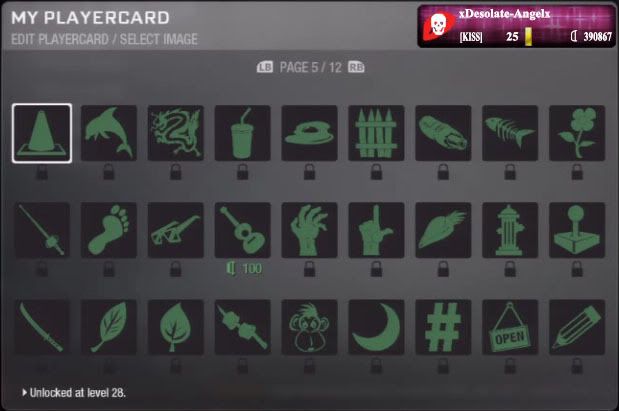 Black Ops Emblems (Custom!
citizenzen
Mar 22, 09:39 PM
The UK and the US have put a freeze on Qaddafi assets three weeks ago.

One small step for man ...

Not resorting to war.

One giant leap for mankind.
---
Black Ops Custom Emblems
heh... they give MS so much crap for photocopying, but if anything, this is more or less taking a page out of MS's book with System Restore. Granted, it looks like it will be better, but still, MS had this kind of thing first.

Not trolling, just pointing it out :)

This is in line with their other "innovations":

Spaces? Wow. A blatant Desktop Manager (http://desktopmanager.berlios.de/) rip-off, and Linux supports virtual desktops since 20 years.

Multiuser support for iCal? I'm sure Microsoft will copy that immediately.. oh, wait... Outlook supports that since years.

Time Machine? This feature is overly complicated.. nothing but a fancy undo option. Lots of eye candy.
---
Re: Black Ops Emblems
macenforcer
Sep 19, 10:04 AM
I don't understand all the hype over the core 2 duo chip vs the core duo chip. They are basically the same chip. You will barely notice any difference with same speed core 2 duo over a same speed core duo.
---
lack ops logo design. call of
Do you have any links that describe Merom's SpeedStep compared to Yonah's? I thought Yonah's was quite good, allowing you to reduce both clock speed and voltage simultaneously. It is always a problem with Intel, they say "improved SpeedStep", but they never tell you "improved compared to what".
I was able to find this about Conroe's implementation, which sounds fairly impressive:
http://www.sharkyextreme.com/hardware/cpu/article.php/3620036

The Conroe core includes support for Intel SpeedStep technology, and in an attempt to lower power and heat requirements, it emulates a mobile processor by lowering the multiplier when idle or in low usage. In the case of the Core 2 Extreme and Duo processors we reviewed, that amounted to a 1.6 GHz clock speed at idle. The Conroe can immediately fire up at full speed and match the system load. Core voltages can also be lowered through similar techniques, such as Intelligent Power Capability, which can turn computing functions on and off when needed, in order to fully maximize power efficiency.
---
This Weeks Creative Black Ops
Multimedia
Aug 18, 10:31 AM
If one were to buy a mac pro now, is the processor upgradeable to Clovertown in the future, or is that not really worth it even if it is, because you would need a faster FSB, meaning a new logic board, to take advantage of its power?I'm sure you know this. But just a reminder that you would be dealing with an extremely fragile and tricky upgrade process that could destroy your motherboard or fry the processor without the latest cooling system from Apple. Just my own caution against attempting this. Not worth the risk I think. There will be a better video card with the Dual Clovertown Mac Pro as well as other changes to the system fixing bugs discovered between now and then. Too many changes in the works for me to want to fool with such a complex system.
---
Black Ops Emblems Here!
Yet what he said is 100% accurate..Weird how that can happen sometimes.

Gruber is rarely accurate in his conclusions, and this time is no exception.

None of what is happening smacks of being a "bait-and-switch" as he claims. That would've required extremely clever pre-planning years ago on the part of Google.

Instead, it's got all the hallmarks of too little pre-planning.

Anyone with experience dealing with large projects can see that Rubin has belatedly come to realize that things were getting out of control. Now he is goofing up trying to take full control himself instead of doing the smart thing and first getting a consensus from the OHA members.
---
Swastika Black Ops Emblems
Chupa Chupa
Apr 10, 04:58 PM
Wirelessly posted (Mozilla/5.0 (iPhone; U; CPU iPhone OS 4_3_1 like Mac OS X; en-us) AppleWebKit/533.17.9 (KHTML, like Gecko) Version/5.0.2 Mobile/8G4 Safari/6533.18.5)
the playercard emblem,
bdkennedy1
Apr 11, 12:18 PM
Good. I'm tired of this yearly battle of upgrades.
---
version Emblem+design Ops
John Gruber's take:



Can't say I disagree.

The real Android bait-and-switch is calling the platform "open" to consumers. Sure, there are a few "Google Experience" devices that have not been mutilated by handset makers, but even those often have closed hardware. The way I see it, Google uses this ruse of openness to get geek support. Geeks then advocate their platform, which is a great form of marketing.

The reality is that any Android handset with a locked bootloader or no root access from the factory is just about as closed as any iOS device (or BlackBerry, WebOS, Windows, etc. device). The open vs. closed = Android vs. iOS argument is ridiculous, because it focuses on the part of the platform (underlying source code) that matters the least to almost all users.
---
Virtualball
Apr 19, 02:05 PM
Sorry about the caps but everyone should see this:

EVERYONE: THE PICTURE POSTED HERE IS STRAIGHT FUD. THE F700 WAS NOT ANNOUNCED AT CEBIT 2006! THIS IS A LIE!

Here are the phones they announced: http://www.gsmarena.com/samsung_at_cebit_2006-news-177.php

So, is it possible for a mod to get rid of this? It's trolling and FUD at its finest.
---
cult hero
Mar 31, 09:58 PM
What he said was spot on. Gruber is the archetypical Apple sycophant, second only to Andy Ifatso from MacBreak Weekly.

No, what he said wasn't spot on. Gruber's a Mac fan and someone I would go so far as to call a "defender of the faith." That's pretty accurate. Saying Gruber would "eat Steve Job's ***** if he could" as just gross. I don't mind if someone says it, but when calling someone else biased, giving a raging response like that does make you look any better.

Of course, hating on virtually anything Apple does or anyone who likes/follows them appears to be the trendy thing to do around here.
---
This may make my 13" MBP summer purchase change a bit...

It'd be a hard choice between a current i5 13" MBP and an i5 13" MBA, especially with that higher res screen and the SSD. The only problem is that it will be my only machine, so I'm not sure I can do just an Air for an extended period of time. The netbook-only setup I have now is pretty lame.
---
There have been live streams in the past but last I heard Apple killed it for this meeting.


Lethal

well, if they were planning on doing a livestream, and all of the sudden they make it into a semi-stevenote, the extra traffic would probably kill the stream anyway
---
michaelrjohnson
Jul 27, 10:03 AM
Rule 1 of Apple Events:

You never get all the marbles.
Very very wise, Chundles. You are correct.

(In other words, they're always disappointing on some level to someone.) :)
---