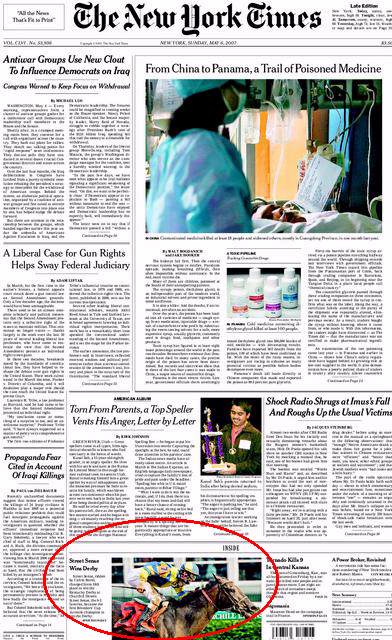 the new york times front page.
I don't believe this can install without user intervention? Even the screenshot shows you need to click continue.
---
new york times, fall
PJWilkinson
Sep 12, 04:25 PM
I've just got back from the live streamed event in London and summarised the key highlights of the show here:

http://blog.crowdstorm.com

I wish I'd had my camera now. I did have a chance to play with all the products (except iTV) and must say the ipods look a lot smaller and the iTunes interface is very slick. iTV was basically a flat apple mini with lots of connectors out the back for the TV - no one could convince us that the 640x480 would be enough for HDTV or which wireless protocol it would use.
---
New York Times.
Not likely as all four in one would have to share one FSB instead of two in two each having their own FSB. While the 8-core owners will have to live with this limitation, I doubt the 4-core buyers would want theirs running that way. That would make the older 4-core Mac Pros run faster than the new ones. Not progress.

We are now less than four weeks away from Black Friday. So it's all very exciting. I imagine Apple will be able to add this choice the same day Intel makes release official. So watching for Intel's release day is key. I believe I read some post that said it would be mid November. Anyone know exactly?

Monday the 13th.
---
the new york times front page.
Faster this, faster that. Software here, software there. Upgrade this, upgrade that. Blah! Blah! Blah!

I like computers just as much as the next geek but when you break it all down what can't you do with computers and OS's from even 5 years ago that you can today? In truth the only real benefits are that Windows and Mac systems are faster and more stable than they used to be. For Macs to make any inroads more innovation is the key. They cannot compete on price/performance and never will. Moving to x86 could help of course. Note that most people don't buy Macs because of price and not because of performance issues.

So with this in mind if you set aside the small contingent that truly needs faster Macs for their jobs in professional settings, the Mac really needs lower prices and more innovation. Do that and Apple will have a winner that they would need to open up the clone market again just to be able to make enough of them.

Frankly this whole benchmark argument is stupid for most of the people here. Benchmarks should be used as nothing more than a guide and you should have multiple sources if you want to base a purchasing decision from them alone. Too many people treat them as the end all be all.
---
the new york times front page.
AppliedVisual
Oct 24, 04:38 PM
In three years they will have something much better, might as well wait!:p

Yeah, I'm not buying until the 32" 4K resolution monitors hit $1599. :rolleyes:
---
front-page New York Times
matticus008
Mar 20, 08:41 PM
@eric_n_dfw

Perhaps you should read what you quote:

legal/illegal and right/wrong do not have to line up with each other in the real world.

I know this isn't directed at me, but you're right. Right/wrong and legal/illegal aren't matching binaries. However, all things that are illegal are wrong. Whether they are simultaneously right (that is, morally justified) depends on the issue. Some things that are legal can be wrong while being right as well. In extreme cases, the morally right thing can be in direct conflict with the law, warranting illegal action. In the overwhelming majority of cases, however, something that is "right" while simultaneously against the law is an issue that needs to be dealt with through legitimate change within the system.

That's why democracies exist--to give the people the ability to change the law and prevent the law from infringing on individual or group rights. The law, in this case, is not one of the extreme situations and there is not legitimate harm/reason to break the law except that it's easier and more convenient. There is no moral offense being committed by the law, and undermining the rule of law is not a justifiable offense over something as trivial as music use rights. In other words, it might be morally okay to use songs in your wedding video, but it's not morally okay to break the law in order to put them there when you have legal means of either doing so (which is the case--buy the CD) or to change the law to allow it (unnecessary here).
---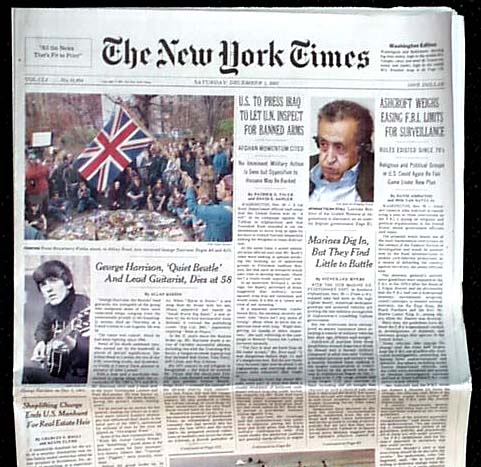 160034 THE NEW YORK TIMES,
Drewnrupe
Sep 21, 10:43 AM
I havent gone through and taken numbers but it appears that a large number of the people demanding that this device should provide DVR functionalty already have a Tivo - how many posts decrying the lack of DVR end up " I'll keep my Tivo " ?

Isnt that the point - you have a Tivo - you have made the decision to keep your recorded TV media in its traditional place - the living room / den.

The iTV concept starts from the premis that this is an outdated concept.
In these days of multiple TV households , viewing on computer screens and ipods it only makes sense to centralize your media. This way we can say good bye to the "3 receiver satalite deals" and "sycronized Tivos" that result in multiple boxes in every room.

Once you get past the concept that your TV media source should originate in the place where you historically viewed TV all the pieces fall into place.

Before all this iTV talk came about I had already put an airport in the bedroom to listen to internet radio via airTunes. When considering Tivo i discovered that lifetime licenses were not an option any more and did not want to take on another "small monthly fee". I now have an EyeTv 200 linked to my Mac in the office and plug an eyehome into the airport express sitting in the bedroom - it works great for me and was selected as a direct alternative to Tivo - it just seemed right to have this located by the computer and hot add more electronics to the bedroom.

Yes there are limitations - the greatest at the moment being that i cannot use the eyehome to watch iTunes pyrchased Movies ( hence the need for the iTV/Teleport).
Yes I cannot schedule recording from the Tv , but I can from the office which is usually where I am when i think to record something, and also if I am out of the house i can schedule recording via the internet which is great.

Digital channels are missing but generally the channels up above the 100 mark are not interesting to me and HD would be nice for the few programs I watch that provide it, but these are limitations of the solution that I am using - NOT THE CONCEPT.

The computer provides the central storage point for your media. It gets to the TV via iTV or some equivalent Distribution system. The media itself can come from your DVDs , a DVR linked to the computer, downloaded from the internet, or your old Betamax plugged into an encoder digitizing to the computer.
If Eyetv doesnt cut it as your DVR, then there can and I am sure will be other options - hey even Tivo - but again i hold that it should be part of the central media storage , not sitting under the TV - or worse still under several Tvs.

For as long as we continue to try and combine these functions of media source, storage and replay into single boxes we will always have duplicattion of effort and boxes.

People that wtill think they need ANOTHER computer, or Another disk drive or another dvd player next to their TV and that iTV should include all this are just holding on to an historical concept or an entertainment center havign to be centered int the living room.

Where you watch any of this media there should only be a screen , speakers , and as little else as possible - iTV ( or for now eyehome) - is pretty little !!!

I think this realy is the missing link that makes a computer-centric household media solution viable and appealing to the majority of even single computer households. I certainly would not have purchased an eyeTv if eyeHome didnt exist , and this is the same reason I will not purchase a movie until either eyehome can show it on my TV or iTV arrives to do the same.


Drew
---
Credit New York Times Co.
AlligatorBloodz
Apr 9, 07:13 PM
But is it the right content?

The sort of games that will make the iphone a legitimate threat to the competitors' products just aren't coming out in any sort of timely manner, if at all. So the devices will continue to cater to different parts of the market.. But if we want more "proper" games on iOS Apple have a hell of a lot of work to do.. They haven't set up a perfect platform for it yet.

1. Define a proper game. I think there are a lot of proper games on iOS. But I think I get your point. Do you mean hardcore? Halo, elder scrolls, call of duty etc.

2. What do you mean make a legitimate threat? I would bet money there are more iDevices in peoples homes and hands than Nintendo or Sony devices (of similar purposes) I watched a friends kid for a week in January while she was on a business trip. The kid loved his DS to death. For Christmas he got an iPad. He didn't even know where his DS was anymore, it was old news. Plus when apple has enough money to buy either company out, I think that makes them a legitimate threat.
---
The Wall Street Journal,
edifyingGerbil
Apr 25, 06:22 PM
I do think it was a bad call when God decided that strapping on explosives and blowing up the local market and it's customers was appropriate. ;)

Allah decided that, and Allah precedes Islam (Muhammad's father's name was Abdullah [slave/servant of God]). The God of Islam bears little resemblance to the God of the New Testament.

But Allah is a great poster boy for Atheists as to why religion is the root of all problems lol
---
[Nancy Chunn / New York Times
eric_n_dfw
Mar 20, 08:18 AM
The "Apple first" nuts in this thread are the the ones that give the Mac community a bad name. "Digital rights management" blows.Excuse me?!?!

I, sir, am a NeXT nut! It just so happens that Apple currently owns them! ;)

Seriously, though, Apple's in a tough spot - they currently have the most permissive form of DRM that the record companies will allow. Remember, also, that they took a lot of flack from said companies when the iPod originally came out because the only copy protection on it is that the music files are in a hidding folder to make it harder to copy from one Mac/PC to another. (something easily defeated though) DRM does suck - but it's "not that bad" and CD's are cheap enough that you can rip 'em for near the same cost. The biggest problem I have with iTMS is that the files are compressed. Some tracks need higher bitrates (thus I buy them). But for 90% of the music out there, it's good enough.

Don't confuse Apple fanaticism with people who just want the facts kept straight: iTMS TOS says you must use iTunes to purchase music from it - use anything else and you've broken that agreement. The arguement (at least from me) would be exactly the same if it was MTV, Dell or WalMart's music store's TOS in question.

I seriously think that if every Linux user would just send an email to Apple every time they bought a track off another service or bought a CD when they would have done so on iTMS but couldn't, that they'd get the hint.
---
New York Times Front Page
---
front page of the New York
BornAgainMac
Sep 26, 04:47 AM
Running at 8 Core-a-hz
---
the new york times front page.
Full of Win
Apr 12, 10:18 PM
So this is basically a jazzed up Final Cut Express and the pros have been shown the door. Why am I not shocked about this. :mad:

Someday I'll tell my kids that Apple was the company for pros to which they will laugh in disbelief; kind of how I do now when old people tell me that American cars were once high quality.
---
Front Page Image
NebulaClash
Apr 28, 08:48 AM
The tangible item is the smartphone hardware itself. Thats like saying the battle between Sony and Samsung LCD tv's, isnt exactly about tv's... its about Google TV(Sony) vs Samsung Smart TV.

Then why don't they show studies that compare Samsung versus LG versus Motorola smart phone hardware sales? Why are they constantly talking about the "Android" share?
---
the new york times
the software would probably go over better if it did not contain the 1st syllable of 'Pirate' or 'Pirating' right before the word music..... :rolleyes:
---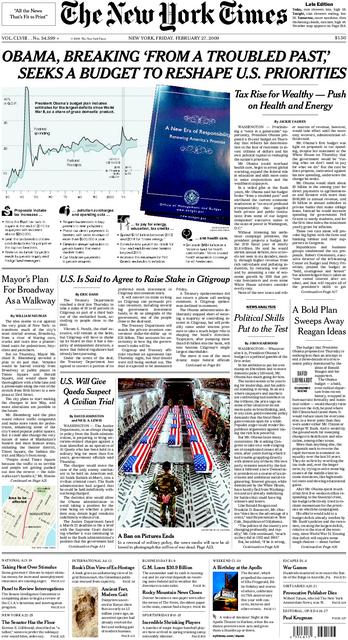 The front page of this
Everything is hate to people like you. It makes it impossible to have any kind of conversation.

Difference of opinion != Hate

Putting homosexuality down to the choice of a "hip counterculture" is hateful, because it completely trivializes the issue.

Real people's lives are being snuffed out because of who they are; these are kids that will never get a chance to do all of the things that make this life so great.

Your words are hateful because they further marginalize. I am a heterosexual man, and I did not choose to be one. My best friend is a homosexual man, and he did not choose to be one. Yet he had to endure an unending fear of violence for who he was, and I did not.

I don't even care if you don't like homosexual people; you're free to do that. But don't trivialize the situation; these people are dying for who they are, and that should shock and disturb every last one of us.
---
The New York Times front page,
Even if the internal architecture of the two chips is the same, a Dual 3.0ghz Woodcrest configuration is still going to outperform a Single 2.66ghz Conroe. While Conroe might be very good, it's not the best, which is what pro customer's expect from Apple's highest-end workstation offering.
I thought it was pretty obvious that I was talking about a potential single CPU Mac Pro. Woodcrest would obviously have to be used in a dual CPU machine. Also, I'd expect that lower speed grades would be offered too, which would make a 2.66GHz Conroe a nice pick. Or is only the absolutely highest clocked version of the CPU good enough to satisfy the demanding professional Mac users? :rolleyes:

Sorry, just tired of the so called professionals that can't stop whining about how anything other than the best is an insult... It's annoying and it gets old fast.
---
the New York Times Front
only issue i have with at&t is dropped calls. 3G in my area is fast and reliable usually.

I had this issue before my iphone 4 with my 3G iphone.
---
the new york times front page.
edifyingGerbil
Apr 27, 03:04 PM
I'm afraid you are.

The Hebrew god is the same god as in polytheistic days, but once he had conquered all his fellow gods, he was left with unrivalled power. The Hebrew religion became monotheistic, and their new old god acquired sole power, but the root of the deity was no more or less than a shared and ancient mythology.

But these arguments don't refer to God as being derived from El, the arguments can only work if "God" is shorthand for "the entity described in the Judaeo-Christian Biblical texts".

The fact he is described on tablets in Ugarit doesn't matter for the purposes of ontological arguments that try to answer does "God" (the Judaeo-Christian God) exist?

This was my point, waaay back, about why I use the Judaeo-Christian God as opposed to god. Someone took umbrage at my use of Judaeo-Christian.
---
Anyway I've had my fun here for now. I think it is settled that the G4 does poorly at this particular float test. I've done everything I can think of and gone though all sorts of variations of the loop trying to increase the IPC but I could never make significant headway on either the PC or the Mac.

That said, this test is essentialy a test where we do 400000000 double precision square roots which we don't even store and nothing else. There are no memory access, only very predictable branches. I have radically changed the loop and compiler flags and essentially nothing besides the sqrt() makes any difference.

I do not regard this test as important in the overall picture. It does not illustrate anything important to anyone, unless someone sits around doing square roots all day.

I might also add that designing a meaningful benchmark is very hard. I think SPEC is about as good as it gets, and yes the G4 looses in floats there too. :)
---
Obviously, it wouln't be "all at once" and these types of things never happen in one single "foreign land". But history is wrought with many resettling of peoples, the Jews is just one example. This actually happens a lot for "unnatural" disasters like war and stuff.

If this situation blows up more and more, heck, humans haven't even dealt with such a potential disaster outcome before. It's actually purely "unnatural" at it's roots. There isn't any natural deposit of refined radioactive uranium/plutonium/whatever that we've encountered on earth before. This is purely man-made and is not supposed to exist. I mean, what is there to do in such a case? I know GM, Microsoft, Motorola et al may have a field day if the Japanese just disapeared, but hey, there's added value elsewhere that many nations would value in having their human and physical assets close.

I've been observing this thread, and slightly educated from it too (thanks nuclear people!). But I had to jump in here - is this a joke? If it is you're taking it too far.
---
And Apple IS eco-friendly, or so I thought--Al Gore is on the board. I got the impression he was sort of into the environmental movement...

Actually, he's on the Al Gore movement. ;)
---
dante@sisna.com
Sep 12, 06:58 PM
Your clients represent the extreme minority of advertising content today. While that is changing, I concede, most advertisers are still in the old paradigm.

Not the guys with the Money.

The mom and pops perhaps, but all the players know what is coming and are preparing for it via cooperative partnerships, sponsorships, viral, geurilla, etc.
---
cult hero
Apr 13, 12:08 AM
Hard to take anyone seriously as a professional who uses Adobe. Avid, sure, but the industry has moved to Final Cut Pro, at least the part of the industry I interface with.

You calling this Final Cut a "toy" after it was just presented to a room full of professionals who loved it seems odd. Why the need to diminish it when it is clear that if you werent' there, there's much we don't yet know?

Dude, didn't you get the memo? All the cool kids around here hate on Apple. Duh. (Why they hang around a site dedicated to Apple products is beyond me.)
---